African magazines that publish literature have come a long way since the 2000s when South Africa's Chimurenga debuted under the editorial leadership of Ntone Edjabe. Chimurenga's success was quickly followed by Kenya's Kwani? founded by Binyavanga Wainaina in 2003.  In 2009, Emmanuel Iduma and Dami Ajayi kept up the momentum by setting up Nigeria's Saraba. There is also Bakwa in Cameroon run by Dzekashu MacViban.
So much pioneering work and sacrifice has gone into putting African writing on the literary map. But there is still much work to be done to establish the global influence of African literature and literary culture. Thankfully a new crop of publishers and editors has arisen to fulfill this urgent task.
Enkare Review and Expound are at the forefront of an upsurge of ambitious literary outlets with a global outlook, magazines manned effectively by creative twentysomethings.
In September, in what was a major literary coup, then one-month-old Enkare Review exclusively published a new short story by Junot Diaz called "Amsterdam." In hours, the story went viral. It was less about it being a Junot Diaz story and more about it being a Junot Diaz story in a new African magazine. It was exactly our thoughts that the novelist Zukiswa Wanner captured when she commented: "This is gonna be a hard act to follow, Enkare Team." The blogger James Murua was more unhindered, writing:
Wait a minute… did I read that right? Junot Diaz? JUNOT FREAKING DIAZ?! Pulitzer Prize winning, New York Times bestseller, MacArthur "Genius" Fellowship recipient and National Book Award finalist Diaz?  How the heck did a publication that isn't paying people convince Diaz to have one of his stories featured?
Since its first call for submissions in August, Enkare Review has swiftly established itself as a continental heavyweight, publishing fiction by Maaza Mengiste and Nnedi Okoroafor and Namwali Serpell, a rousing essay by Ikhide R. Ikheloa, and a beautiful (re)assessment of Afropolitanism by Taiye Selasi.
Run by an energetic team who, because they want the focus to be on what they do rather than on who they are, have no masthead on their site, Enkare Review has modeled itself on the rigorous curating that characterizes top literary magazines in the West, and it is this that is positioning it as a draw for top names.
The magazine is a loud declaration—by the post-Ntone, post-Bibi Bakare-Yusuf generation—of readiness to anchor African writing at the highest levels.
Founded in March of 2015 by Wale Owoade whose sublime poetry we recently published, Expound is gearing up for its 8th Issue, titled The Woman Issue. And then it gets even more remarkable: the magazine made its first Pushcart Prize and Best of the Net nominations this year.
The Expound team is an arsenal of enthusiastic talent: Poetry Editor Saddiq M. Dzukogi; Visual Arts Editor TJ Benson, who has, this year, won the Amab-HBF Short Story Prize and has been shortlisted for the Awele Short Story Prize and the Short Story Day Africa Prize; Media and Publicity Manager Chibuihe Obi, who earned a Pushcart Prize nomination for his non-fiction piece, "Of War, Photographs and Memory."
The magazine demonstrated its own ability to attract marquee names when, in October, Binyavanga Wainaina inaugurated his Upright Movement with an essay there.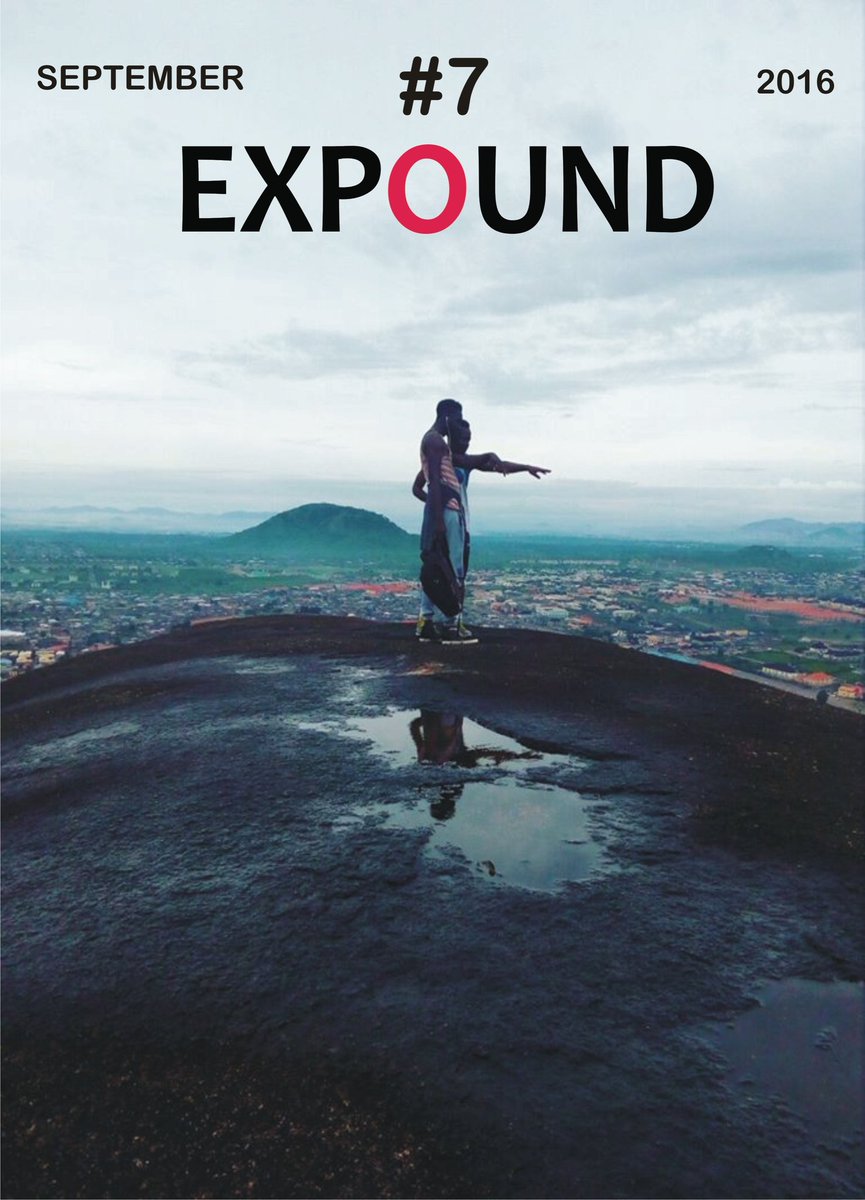 Expound is also gaining a reputation for aesthetically striking covers, using everything from alluring photographs to elaborate art.
"EXPOUND was established not just to be a magazine but a literary movement, an advocate, a statement and a new way of defining literature in Africa," says Owoade in an interview with The Review Review. And, steadily, the magazine is arriving there.
It's 7th Issue was guest-edited by the brilliant Gbenga Adesina, co-winner of the 2016 Brunel University African Poetry Prize, whose The New York Times Magazine poem we have written about.
Its 8th Issue will be guest-edited by Safia Elhillo — joint winner of the 2015 Brunel University African Poetry Prize, winner of the 2016 Sillerman First Book Prize for African Poets, and poetry editor at Kinfolks Quarterly — and Unoma Azuah — professor of English at the Illinois Institute of Art, Chicago, and winner of the Hellman/Hammett, the Urban Spectrum, the Leonard Trawick and the Snyder-Aidoo book awards.
We wish Enkare Review and Expound longevity. Great work, guys! The literary world sees you!
***********
Facebook link image is an adaptation of an image by jos via Flickr.
Correction: The original version of this post wrongly stated that "Alongside the phenomenal work by its managing team, Enkare Review is also kept afloat through donations by undisclosed sources." This has been removed and we apologize for our error.