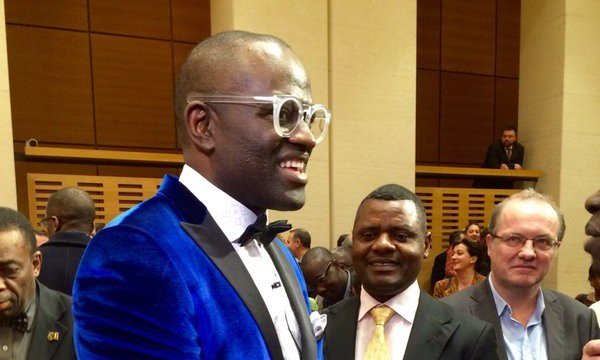 Star-writer Alain Mabanckou's eleventh novel, Black Moses, has been longlisted for the 2017 Man Booker International Prize.
Mabanckou has been described by The Guardian UK as "Africa's Samuel Beckett…one of the continent's greatest living writers." This nomination is the second for the Congolese novelist who was also shortlisted in 2015. At the time, the prize was awarded in celebration of an author's body of work rather than for a specific book.
The Man Booker International Prize is biennial and honors the finest translated fiction from around the world. The cash prize of £50,000 is split between the author and the translator.
Mabanckou's Black Moses is translated by Helen Stevenson and published by Serpent's Tail. Here is a description of the 220-page novel by its publishers.
It's 1970, and in the People's Republic of Congo a Marxist-Leninist revolution is ushering in a new age. But over at the orphanage on the outskirts of Pointe-Noire where young Moses has grown up, the revolution has only strengthened the reign of terror of Dieudonné Ngoulmoumako, the institution's corrupt director. So Moses escapes to Pointe-Noire, where he finds a home with a larcenous band of Congolese Merry Men and among the Zairean prostitutes of the Trois-Cents quarter.

But the authorities won't leave Moses in peace, and intervene to chase both the Merry Men and the Trois-Cents girls out of town. All this injustice pushes poor Moses over the edge. Could he really be the Robin Hood of the Congo? Or is he just losing his marbles? Black Moses is a larger-than-life comic tale of a young man obsessed with helping the helpless in an unjust world. It is also a vital new extension of Mabanckou's extraordinary, interlinked body of work dedicated to his native Congo, and confirms his status as one of our great storytellers.
In 2016, DR Congo's Fiston Mwanza Mujila's Tram 83 and Angola's Jose Eduardo Agualusa's A General Theory of Oblivion were longlisted, with Agualusa making the shortlist.
Here is the full 2017 longlist from the Man Booker Website.
Author (Nationality), Translator, Title (Imprint)
The 2017 shortlist will be announced on 20 April and the winner on 14 June. Alongside Nick Barley, Daniel Hahn, Elif Shafak and Helen Mort on the panel of judges is Chika Unigwe, NLNG Nigeria Prize for Literature-winning author of On Black Sister's Street.
Congratulations to Alain Mabanckou. We wish him the very best!
Read our interview with him in January of this year.
***
Post image via Brittle Paper. 
Facebook link image by Eli Francis via Unsplash